Fresh from his victory in the Australian U/8 Championships, James dropped in on the club tonight to show off his trophies from Melbourne. James also placed equal 1st in the Australian U/8 Blitz Championship but placed 2nd on tie-break.
Why anyone would want a tie-break for the younger age groups is beyond me.
Better to have 2 kids going home to their states and clubs and schools with the trophy than one.
We currently have former Junior Jai Turner and current Juniors Filip Simic, Elizabeth Williams and Daniel Woodrow competing in the Oceania Zonal in Melbourne. Best of luck to all of them.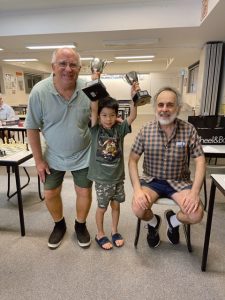 Left: RCC Inc. Club President Mark C Stokes,
Middle: the guy in the middle with 2 trophies is Australian U/8 Champion James Xia
Right: James's coach and RCC Inc. News Editor, Kerry Corker.
Thanks to the Xia family for their continued support of the Club. See you back soon.