44th Chess Olympiad Chennai, India starts tomorrow.
Anybody having ANY NEWS on the Australian Olympiad Teams, please contact me so that I can publish.
Have they arrived yet? For instance.
$10 reward for information. I am serious!
—————————
NEWS UPDATES
– (IM Michael Rahal, FIDE Press Officer, Shore Temple Mahabalipuram)
Surrounded by great anticipation, the Chess Olympiad Relay Torch finally arrived this morning to the Olympiad venue in Mahabalipuram.
After travelling throughout India for more than a month, International Masters Srihari L R and Harshavardhan G B, together with other local authorities, took over the relay at the iconic Shore Temple, in the midst of a display of light, colour, acrobatics and hundreds of chess enthusiasts.
Constructed in 725 AD, the Shore Temple is one of the oldest structural stone temples of South India. Overlooking the shore of the Bay of Bengal, it's a complex of temples and shrines built with blocks of granite, and is classified as a UNESCO World Heritage Site since 1984.
The Indira Gandhi International Stadium in New Delhi was the initial venue for the first-ever Chess Olympiad Torch Relay. On the 19th of July, Indian Prime Minister Narendra Modi handed over the Torch to five-times World Champion and India's Chess Superstar Vishy Anand, a fitting event for the best Indian chess player in history and one of the best players in the world for the last three decades.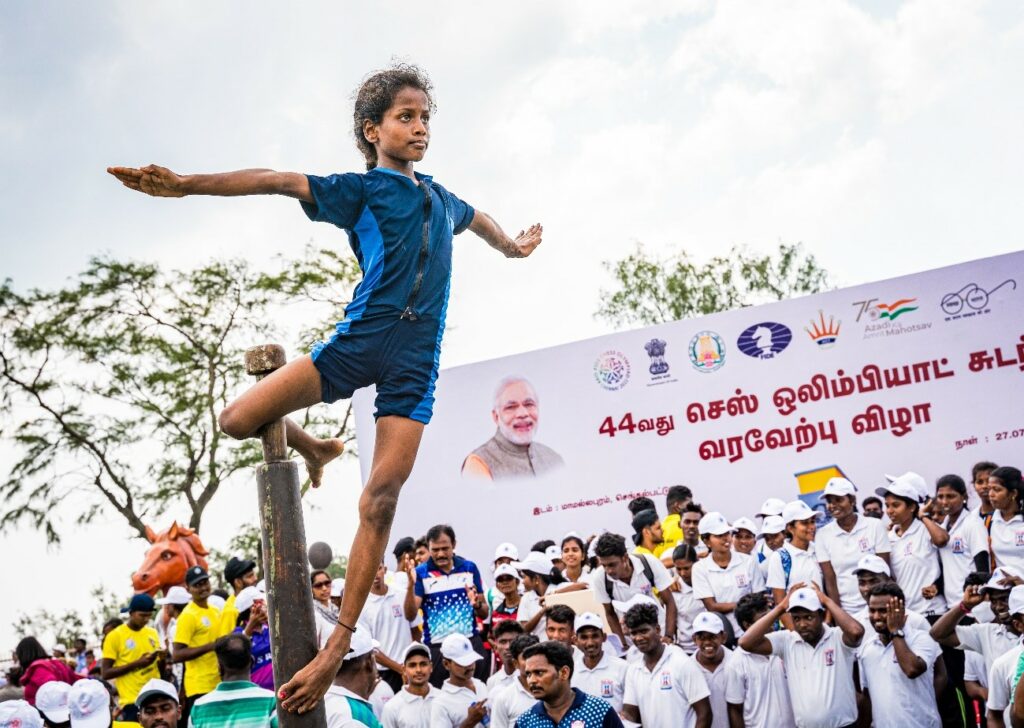 Since then, the Torch has travelled all over India through more than 75 cities, in which many International Grandmasters and other chess lovers have enjoyed the wonderful feeling of being part of a unique moment in the history of Indian chess.
In addition, other ancient Indian sports such as Mallakhamb – gymnastics on a wooden pole, traced back to 12th century – have also been featured as side events during the journey.
The Torch will continue to be relayed to Chennai where it will enjoy a privileged place in the official opening ceremony, scheduled for tomorrow, July 28 at 7:00 p.m., with the presence of the highest authorities of the state of Tamil Nadu, the International Federation, the All Indian Chess Association and all of the players.
Beautiful Pictures by Lennart Ootes & David Llada
---
Back to News