53rd Redcliffe Peninsula Open
53rd Redcliffe Peninsula Open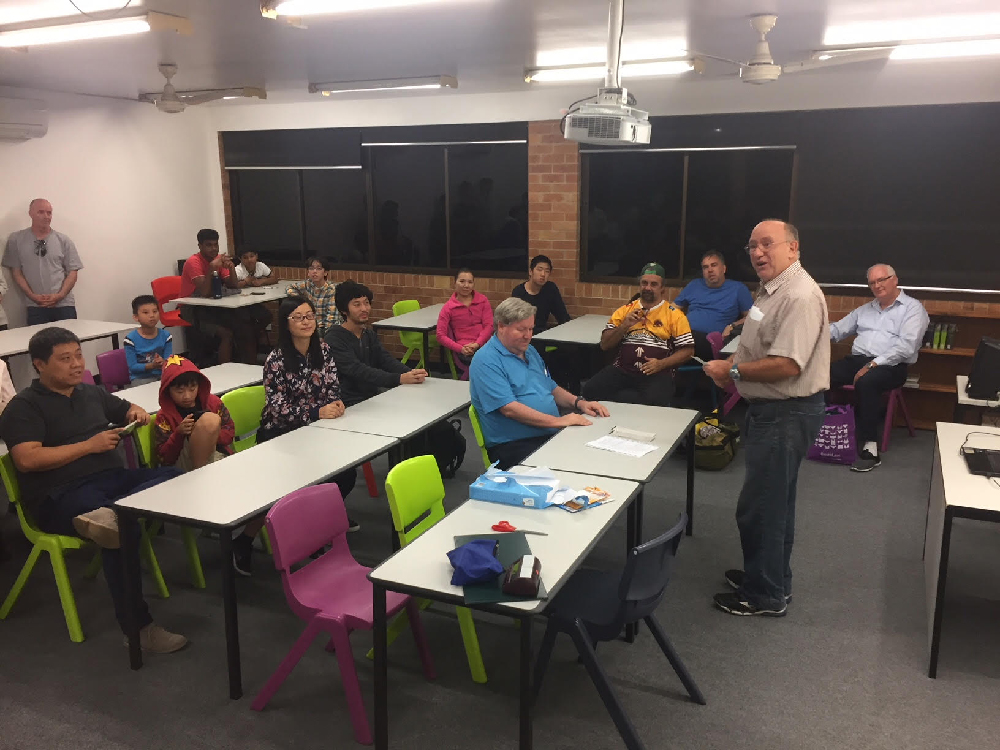 The 53rd consecutive Peninsula chess tournament was held on Saturday 19th and Sunday 20th May, 2018 at the Grace Lutheran College with sixty (60) players in attendance.
There were two Grandmasters (Max Illingworth and Suat Atalik of Turkey); one IM (Stephen Solomon who is a welcome regular at our weekend tournaments) and one FM (Gene Nakauchi who is another regular attendee). Our club was also fortunate in having the four top boards broadcast live over the six rounds. This was a first for our club and we hope to continue this into the future. So,we warmly thank David Esmonde of iSage for providing the equipment and the support necessary to run these live games – such was greatly appreciated.
Our arbiter, Patrick Byrom, ensured that the tournament ran smoothly and I can attest that the tournament was conducted in an extremely friendly atmosphere but with fighting chess being the order of the day. The younger players are now being well coached; show no fear; have a wealth chess knowledge and tactics and enjoy beating up on the older generation – and I can attest to that fact on several occasions.
I believe that the Queensland chess scene is now improving significantly with quality coaches; inter schools competitions and numerous well attended and professionally run weekend tournaments underpinning that incremental improvement. May it continue!!!!
Now, to the winners:
1st: Max Ilingworth 6/6! Another picket fence win for Max and we wish him and his fellow team mates all the best in the upcoming 2018 Chess Olympiad being held in Batumi, Georgia. Go Max and go Australia! Max won $800
=2nd: Suat Atalik and Bruce Williams 5/6 each won $300.
Rating Group A: =1st Tony Weller (Redcliffe Club member), Igor Paevskiy and Zachary Pomerenke, each won $70.
Rating B: George Warta (a sometimes Redcliffe Club attendee) 4.5/6 George won $150.
Rating C: Jayden Ooi (a very talented player) 4/6. Jaden won $125
Rating D: William Ilka 3.5/6. William won $100.
The best unrated prize went to Brian Kemish on 4/6 – Brian will not be unrated for much longer!
I must acknowledge the attendance of Grandmaster Suat Atalik from Turkey, who not only played in this tournament and the recent Aivars Gipslis memorial event, but also made several visits to local Brisbane Clubs and played several simuls. I believe it is important that we spread the word that Australia has a vibrant chess community and visits such as Suat's will hopefully spread that impression and encourage other grandmasters to visit.
Finally, I thank everyone who attended on the day. A big thanks to all the volunteers who helped set up and then pack up – your assistance does not go unnoticed.
The Queensland chess scene has several other important tournaments coming up in the next few months and I would encourage you to think about attending – you will make great mates!
Please check our website for details: http://www.caq.org.au/
Mark Stokes
President
Redcliffe Chess Club
---
Back to News